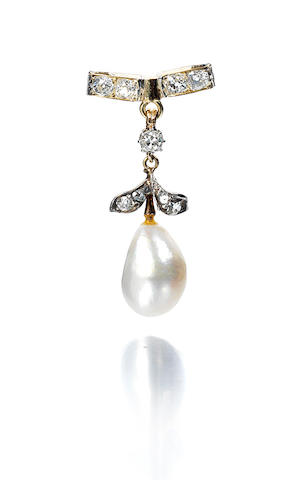 A natural pearl and diamond pendant-necklace. Photo: Courtesy of Bonhams.
The drop-shaped natural pearl, measuring 10.0 x 10.2 x 14.88mm, with a cushion-shaped, old brilliant and rose-cut diamond surmount, suspended from a chain necklace of flattened 'S'-shaped linking, diamonds approximately 0.90 carat total, French assay marks, necklace length 47.5cm, pendant length 3.6cm. Lot 126. Estimate £15,000 – 20,000 (€19,000 – 25,000)
Accompanied by a report from Laboratoire Française de Gemmologie stating that the pearl is natural, saltwater. Report number 207385, dated 31 May 2013.
Bonhams. FINE JEWELLERY, INCORPORATING THE CERES COLLECTION, LOTS 1 TO 101; A COLLECTION OF CAMEOS & INTAGLIOS FORMED BY AN AMERICAN FAMILY FROM THE 1930S TO THE 1990S, 17 Sep 2014 13:00 BST, LONDON, NEW BOND STREET